Stormwater Capture and Reuse systems encompasses a wide variety of water storage techniques designed to "capture" precipitation, hold it for a period of time, and reuse the water.
Kimball Environmental will design and install a cost-effective, efficient, integrated water management system that will maximize return on investment.

Green Roof Systems will capture and hold stormwater thereby reducing runoff. Green Roofs also reduce HVAC costs, dramatically extend the life of the roof (50-60 years) and provide numerous additional benefits.
Collected rainwater can augment primary water sources. Vertical Storage, Pervious Pavement, Underground Storage/Infiltration systems, Cisterns, Rain Barrels and similar devices are used to capture stormwater from the roofs of buildings. These systems can reduce potable water needs for uses such as irrigation and fire protection while also reducing stormwater discharges.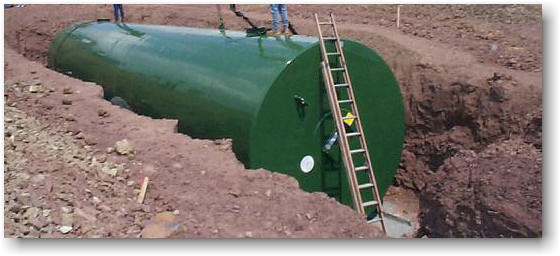 Storage and Reuse Techniques range from small, residential systems such as Rain Barrels that are maintained by the homeowner to supplement garden needs, to large, "vertical storage" or "underground Storage" units that can provide Greywater, irrigation and/or firefighting needs. Storage/reuse techniques are useful in urban areas where there is little physical space to manage storm water.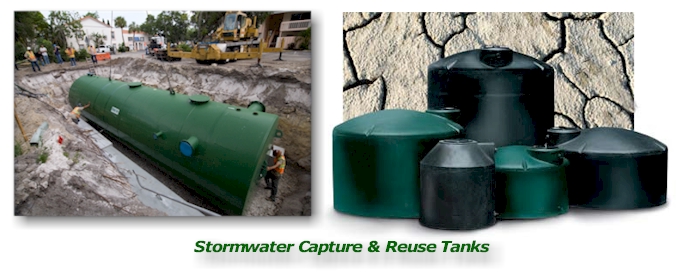 Stormwater Infiltration

Systems
When an area is developed, buildings and parking areas overcome the natural absorption area where the rain would normally be infiltrated back into the ground. These impervious structures offset the typical absorption pattern. As a result, when the rain is not allowed to penetrate it begins to build up, may cause ponding or flooding and/or begins to flow to another location.
By using infiltration chambers, rainwater is collected in inlet structures and piped to an underground retention/detention system. Infiltration chambers may be used as underground retention/detention systems, as replacements for ponds, concrete structures or pipe and stone installations. This technology provides a complete stormwater management plan consisting of filtration, conveyance, storage and infiltration.
Vertical Storage – above ground tanks, stand along "towers", or "fat downspouts" that usually rest against a building performing the same capture, storage and release functions as cisterns and rain barrels.

Underground Storage - below ground tanks, typically installed below grade adjacent to a building performing the same capture, storage and release functions as cisterns and rain barrels.

Infiltration Systems – Storage/infiltration may be incorporated into elements such as parking lots, paths and walkways to supplement irrigation with the use of structural plastic storage units.

Green Roofs – roof-top gardens that act like a sponge to reduce the amount of water and/or pollutants that run off of your roof.

Cisterns – large, underground or surface containers designed to hold large volumes of water (500 gallons or more). Cisterns may be comprised of fiberglass, concrete, plastic, brick or other materials.

Pervious Pavement - a permeable pavement surface with an underlying stone reservoir that temporarily stores surface runoff before infiltrating into the subsoil. This porous surface replaces traditional pavement, allowing parking lot runoff to infiltrate directly into the soil and receive water quality treatment.

Porous Pavement - porous pavement systems are constructed from interlocking, high strength blocks made from recycled plastic that prevent soil compaction and provide load support. Blocks are then filled with soil and seeded, or sodded.